L139 Owner of Darkstar Air Racing
Dianna and her husband reside in Calhoun County, Texas where they own and operate Wolf Point Ranch, LLC. As residents she and her husband are locally supportive of the area with numerous local businesses and interests, in addition she is very active in aviation. Her passion for aviation has lead her to compete in this year's Reno Air Races, she is the owner of Darkstar Air Racing and the world's only Aero Vodochody L139.
Currently she holds a type rating for a Hawker Beechcraft Premier, Commercial and Instrument Flight Rules rated in rotorcraft and fixed wing, certified in twin-engine land, and currently undergoing experimental rating. She flies her grandfather's Waco UPF-7, Eurocopter, Cirrus SR22, Premier Jet and an Aero Vodochody L-139. Her career as a pilot began in 1994.
She is also Principal of Electro-Methods, Inc. which was established in 1965. Electro-Methods is a manufacturer of close tolerance flight safety critical turbine engine components in South Windsor, Connecticut.
She has managed the Calhoun County Airport since 2009. After receiving the contract to provide services for the County's sole airport, the airport was awarded "The Most Improved Airport in the State of Texas" by the Texas Department of Transportation in the first six months of operation.
Dianna is proud to be on the Aircraft Owners and Pilots Association Board of Visitors, the largest organization for general aviation pilots in the world. She has achieved numerous accolades. She became the first helicopter pilot for Angel Flight South Central, the volunteer organization providing transportation for patients for medical services and has flown over 170 missions completed to date, in 2012 she became Vice Chairman. She is also the Whirly-Girls Organization President and Air Race Classic Assistant Director in 2012.
Competition is second nature to her. She won the Championship title in the Air Race Classic, a 2300 nm cross country air race in 2012 and 2014. The Institute of Women of Aviation Worldwide has awarded her the title of " Most Dedicated Female Pilot, Worldwide" in 2011 and 2014. Clearly she's no stranger to winning, Dianna is excited to bring the Darkstar Air Racing team to the 2015 Reno Air Races.
Pilot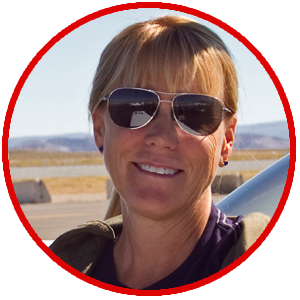 Born and raised in California, Vicky Benzing is an accomplished pilot, skydiver, aerobatic performer, and air racer. With nearly 7,000 hours of flight time and over 1,200 parachute jumps, Vicky has a passion for everything airborne. Her flying career has spanned over thirty years and she currently holds an Airline Transport Pilot rating as well as a commercial rating in helicopters and seaplanes.
In 2005, Vicky began training with air show legend and trainer to the stars, Wayne Handley. Competing in aerobatic competitions throughout the US, Vicky won first place in the Intermediate category in both the Northwest and Southwest Regional Championships in 2006. Two years later she placed in the top 10 finishers at the US National Aerobatic Championships in the Advanced category. In between flying aerobatic competitions Vicky began performing in air shows and today she focuses her energies on her airshow flying. Vicky holds a surface level waiver and a formation card, and has flown well over 100 air show performances at venues across the western US.
In 2010, Vicky began racing in the National Championship Air Races, otherwise known as the Reno Air Races. Competing in the Sport Class she won her very first race ever and was awarded the honor of being chosen the 2010 "Rookie of the Year" by her fellow Sport Class racers. In 2013, Vicky qualified to race an L-39 jet and was named "Rookie of the Year" for the Jet Class, finishing in the gold at 425.6 mph on the course. Last September at the 2014 National Championship Air Races, Vicky won 1st place in both the Sport Silver and Jet Bronze races. She is proud to join the Darkstar Air Racing team.
In addition to her aviation pursuits Vicky holds a PhD in Physical Chemistry from UC Berkeley and has enjoyed a successful career in the Silicon Valley high tech industry. Vicky is currently Vice President of the Sport Class Air Racing Association and is on the Board of Directors of the Hiller Aviation Museum in San Carlos, CA.
Vicky is grateful for the sponsorship of APECS Aerospace Corporation, an engineering consulting firm that specializes in providing support to aviation maintenance repair organizations. Other sponsors are Oregon Aero, maker of seating systems and helmet and headset upgrades, Hooker Harness, producer of custom seatbelts and harnesses, and ASL Camguard, creator of advanced engine oil supplements to reduce engine wear.